A Kitchener compost program is fairly easy to adopt for individual households. If you're in an office setting, however, it takes a bit more planning. Kitchener Clean is here to help. In this article, we will take a look at how Kitchener's compost initiative works, and how you can get your company on board with an office composting program. Kitchener Clean has always been an Environmentally Friendly Office Care Company. In today's world, businesses need to be not only financially sustainable but environmentally and socially sustainable as well. Let us help - contact Kitchener Clean today.
Kitchener Compost
Composting in the office
The Kitchener compost program is for single-family homes, legal duplexes, eligible townhouse units, and small apartment buildings (6 units or less). If you're in an office setting, therefore, what can you do? Fortunately, Kitchener Clean has an office composting program that can get you on track!
How it works
After signing up for the office composting program, you will receive a green bin to collect all your organic waste and compostable materials. All the same items that you would Green Bin at home can be put in the Organic Waste bin in the office. These compostable items will be picked up weekly by an Office Care Technician, at which time you'll also get a fresh bin.
The organic material collected enters the compost stream in one of four ways: donated to local neighbourhood garden compost piles, sent to the Region's Compost facility, sent to Davidson Environmental, or used at Kitchener Clean's Worm Farm where it becomes worm castings (a high grade fertilizer).
As an added bonus, clients can receive a portion of the worm castings generated to be used by any garden enthusiasts on staff! Add it all up, and the environmental benefits, increased employee morale, reduced office carbon footprint, and opportunity to give back to the community results in an office composting program that benefits many.
What goes in the green bin?
The Kitchener compost program has specific guidelines as to what can and can't go in the green bin. Be sure to consider the following when filling it up:
All food scraps including bones, peelings, shells, baking and cooking ingredients, spoiled and raw and cooked food (remove all packaging and stickers)

Small amounts of liquids (no more than one cup per green bin)

Some paper products, such as paper plates, paper towels, facial tissue, greasy take-out paper packaging, paper baking cups, shredded paper

Hair, nail clippings, fur, feathers, and wrapped pet waste. Read more about responsible ways to dispose of pet waste.

Houseplants, cut flowers waste, natural greenery from wreaths (remove pots, wire, decorations)

Wooden toothpicks

Cold wood ashes (place in an acceptable liner bag)

Pumpkins (remove candles, decorations and place on top of or beside your green bin)
If you have a specific question about what's acceptable in Kitchener compost, you can ask the Region's Waste Whiz!
There is also a pretty extensive list of what can't go in, including the following: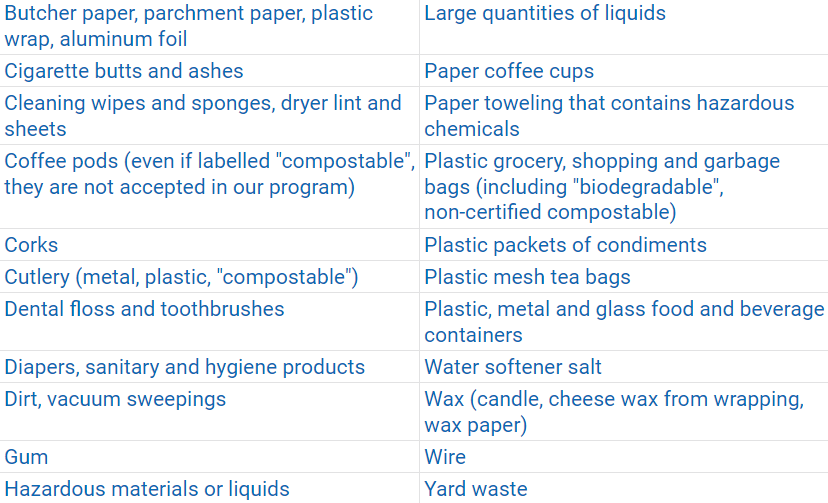 Courtesy: https://www.regionofwaterloo.ca/en/living-here/green-bin.aspx
Residential Kitchener Compost
The Region of Waterloo collects green bin organics from single-family homes, legal duplexes, eligible townhouse units, and small apartment buildings (6 units or less) every week. If you're unsure as to when your compostable items will be picked up, consult the Region's interactive waste collection map to pinpoint your neighbourhood.
Green bins are provided to all new homeowners. You can also get a replacement or additional green bins free of charge by visiting Waste Management Administration offices:
Cambridge: 201 Savage Drive, Monday to Friday 8:30 a.m. to 4 p.m.

Waterloo: 925 Erb Street West (Gate 1), Monday to Friday 8:30 a.m. to 4:30 p.m.
Remember: If your green bin is broken, please bring it when you pick up your replacement as it can be recycled!
Don't forget to line your green bin to help ensure that all the material in it gets collected. These liner bags also help keep your green bin clean, eliminating the need to hose it down every week.
There are two choices for lining your green bin:
Paper liner bags: Paper liner bags made specifically for the green bin are available at local grocery and hardware stores. These bags do not need certification logos. Some have a shiny cellulose lining to give them more wet strength; these are safe to use in our program. As well, you can use any other type of paper bag as a liner, such as paper take-out bags.

Certified compostable plastic (CCP) liner bags: These bags are the only type of plastic that is allowed in our Green Bin program (and accepted by our organics processor), and are identified by specific logos.
(CCP) liner bags must have at least one of these logos.
Kitchener Compost Program: Where Does It All Go?
Collection crews drop off green bin organics at Region of Waterloo facilities, but did you know organics are then loaded into large trucks and shipped in bulk to the City of Guelph's Organic Waste Processing facility? At Guelph's facility, your organics are mixed with other organics, shredded, and put into a series of tunnels to compost. The conditions in the tunnels are monitored to maximize the breakdown of the organics with oxygen!
At around three to four weeks, the compost is screened to separate out any plastics. This screened compost is formed into long piles called "windrows" and is monitored for several weeks while it matures indoors. After an additional screening, the compost is tested to ensure it meets quality standards. The high-grade finished compost is finally sold to local farmers, who add it to their fields to grow more food.
Kitchener compost waste ends up being used to grow local food!
Trust Kitchener Clean to Help Kitchener Compost!
Kitchener Clean is a locally owned and operated family business, so we treat our customers like we would treat our own family - with respect. We value integrity, consistency, and thoroughness with all of our clients.
Our reputation is important to us, so we guarantee all of our services. If for any reason you are not completely satisfied, simply contact us and we will return within 24 hours to address your concern at no additional cost.
To get started with an office compost program, simply contact Kitchener Clean today for a free quote.
We even guarantee our response time. If we haven't responded to any client communication within 24 hours of receiving it, we will offer you a free week of Office Care. That is how strongly we feel about the importance of communication and customer satisfaction. We will always stand behind our work. We guarantee it.
"We are currently using the compost program and they have been great as our company has grown and our usage increased. Very friendly and terrific service!"
- Julie Gillespie
Read more customer reviews here!
From its inception, Kitchener Clean has been an environmentally friendly office care company, and we also use non-toxic cleaning methods to keep you, your staff, and your clients breathing cleaner! To view the complete list of our office cleaning services, click here